Computer Desk: Part III - Drawers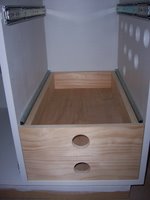 Elizabeth and I worked on the desk yesterday and will do a little more today. She started painting some of the sliding shelves that the components will sit on and the center section that will house the keyboard drawer. Once these are done and the center section is installed, I can work on the doors and then the top so it finally seems like I'm getting somewhere.
In the mean time, I built a couple of the drawers. I'm really happy with how they turned out. You can see how they look in the picture though they will actually go at the top instead of the bottom of the cabinet.
Labels: furniture, home improvement, paint, woodworking