Painting Jackson's Room
While Ross was in New Orleans last week, I spent my free time painting Jackson's room. It took the entire week to get it done because I only had a few hours here and there. My friend Natalie came over one day to help, and I was certainly grateful! I think it turned out pretty well. Now we're just waiting on furniture to arrive so it starts to look like a nursery. The crib and glider have both been ordered, and we're working on designs for the bookshelf and dresser.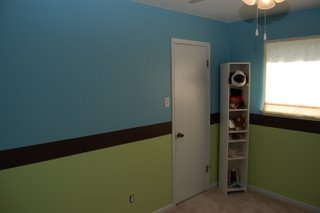 Getting the stripe level was the hardest part of this painting job. I used a measuring tape, a level, and painters tape to get it as close to perfect as I could. Ross also found a tip online that helped prevent the paint from bleeding under the tape. I painted over the tape with the color that would be meeting that edge of the stripe to seal the tape. Then I painted the stripe and removed the tape. It didn't work perfectly because we have pretty rough texture on our walls, but it worked really well. Ross found the tip when I was halfway done with the room, and you could definitely tell a difference. Of course, I'm not sure you can tell now since I did touch ups by hand on all four walls...
Labels: Baby Taylor, home improvement, paint