New Car! / Trans Am for Sale
I bought a new car yesterday. It's a slate blue 2008 Infiniti G35 sedan. So far, I have loved it. It's fast, fun to drive, and has some cool features. Maybe, I'll talk about it some more later, but the real purpose for this post is to advertise my old car for sale.
Most people that read this will know my car, but for those that want more information, I've listed it on AutoTrader and craiglist. If you or someone you know is interested, email me. I'm asking $8000 which is really a great deal on this car. I've loved driving it for the last 9 years (almost). Just for fun, here's an old picture of the car. You can see new pictures at the links above.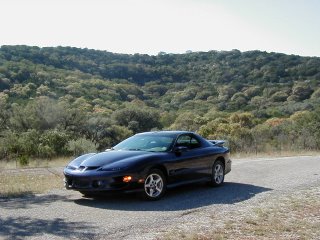 Labels: car